Interferometric Laser Imaging droplet sizer
The Interferometric Laser Imaging Droplet Sizer (ILIDS) is designed to provide planar distribution of size and velocity of transparent spherical droplets and bubbles. This section describes the measurement principle focused on droplets.
The transmitter sends a pulse laser sheet toward a group of droplets, and the scattering lights are received by the receiving optics. The images captured by a CCD camera are processed by a computer.
When the laser sheet illuminates a droplet and its scattering light is captured at a suitable angle on a non-focal plane, an image of a fringe is observed. This is a result of interference between the light reflected by the droplet surface and the light refracted after passing through the droplet.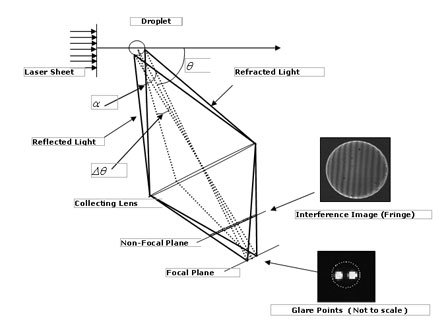 The number of fringes in a defocused image is proportional to the diameter. By counting the number of fringes, we obtain the droplet diameter as below.

d: Diameter of the Droplet N: Number of Fringes : Wavelength of Laser m: Relative Refractive Index
In dense spray flows, the fringe images overlap each other, and it limits availability of information for analysis. By using a cylindrical lens in the receiving optics and compressing the images into broken lines, Maeda et al. (2000) have successfully separated the overlapping images from each other and maximized the number of droplets captured for analysis.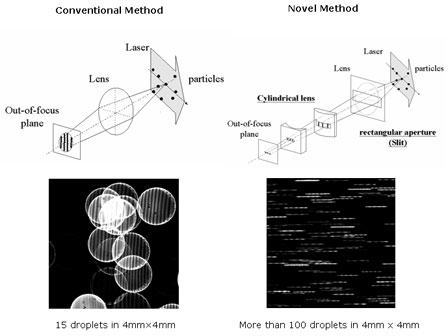 Since the ILIDS uses a planar imaging technique, the position of each droplet on the laser sheet is obtained. In addition, the velocity of each droplet is measured in a way similar to Particle Tracking Velocimetry (PTV). Images are captured at microsecond intervals, which are synchronized with the laser pulse illuminating the droplets. Displacement of each droplet is acquired from two sequential images by cross-correlation algorithm, and the velocity is obtained from the displacement and the laser pulse rate.
Finding identical droplet images in two pictures is a difficult task for conventional PTV. With the ILIDS, however, each droplet image contains diameter information, and this is useful to find the right pair. In case that more than one droplets are considered identical to one droplet in the other picture, the software selects the droplet that has the closest diameter. This PTV technique is unique to the ILIDS and effective to minimize error.