ILIDS Applications
Interferometric Laser Imaging for Droplet Sizing (ILIDS) is a novel technique for accurately measuring sizes of droplets and bubbles. ILIDS was introduced early in 1986 (Koenig et al). The technique has been improved over the years in the image acquisition end and the processing side. In conventional ILIDS, droplets are illuminated by a coherent light sheet. The reflected and the refracted rays yield glare points visible on the droplet surface.
When these points are imaged out-focus an interference pattern will become visible with a shape that is determined by the aperture. The angular frequency of this pattern is proportional to the separating distance between the two glare points and thus to the particle diameter.
Figure 2 shows the interference pattern over each droplet. Note that the size of the circle is proportional to the distance of the droplet from the camera and the shape of the defocused droplet
Where d is the droplet size, l is the wavelength, N is the number of fringes, a is the collect angle of the lens, n is the refractive index and q is the scattering angle of the receiving optics.
Anamorphic optics can help obtain much higher spatial resolution of droplet size distribution for e.g. in sprays. Such an arrangement can be realized using cylindrical lens at the receiving optics in order to converge the light rays in the vertical direction to the focus.
Figure 3 shows the circular patterns compressed to a one-dimensional signal where fringe detection and counting can be done in an efficient and robust manner.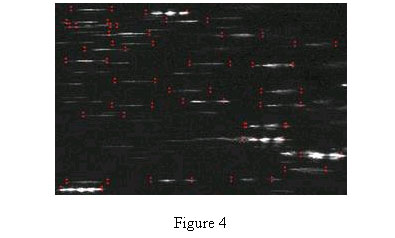 Figure 4 shows the fringe patterns obtained while imaging the spray issued from a De-Lavan nozzle using anisotropic optics. The horizontal fringe projections are highlighted using the 'Red' dots indicating the boundary of the fringe pattern. The fringe counting is done using a peak counting method usually being FFT.
At IIT Madras, Mr. Varun A V and Dr. R.I. Suiith, Department of Aerospace Engineering has developed an ILIDS setup and the necessary image processing algorithm for fringe pattern detection and counting. Figure 5 shows the 'in-house' developed software Ximager and the ILIDS module with parameters required for ILIDS processing.
References
1. Maeda, M. Kawaguchi, T. and Hishida, K. (2000) "Novel interferometric measurement of size and velocity distributions of spherical particles in fluid flows", Meas. Sci. Technol., 11, L13-L18
2. A.R. Glover, S.M. Skippon, and R.D. Boyle. Interferometric laser imaging for droplet sizing: a method for droplet-size measurement in sparse spray systems. Applied Optics, 34:8409.8421,1995.
"You have an Application!!!!"
Help us to update the Applications of PIV, StereoPIV, MicroPIV, NanoPIV, High speed PIV, PTV, LDV, PDPA, PLIF, ILIDS, PSP.
Click here to enter the details.